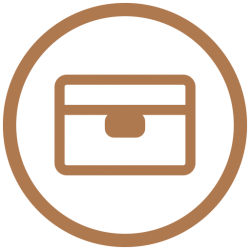 Order payment is made in the following ways:
Cash on delivery:
payment in cash to the authorized employee of the cooperating company (courier), upon delivery of the order, at the place of shipment declared by the Customer. The Customer is not charged with cash on delivery costs.
By credit or debit card:
Visa, Mastercard, Maestro, using secure bank environment

With cash or credit / debit card:
Visa, Mastercard, Maestro, in case of receipt from a physical store of the Company.
By bank deposit:
remittance or payment order in general to the number IBAN: GR1570100000000107034912491. (Please use the order number, which has been sent with the Order Registration Confirmation, as the deposit reason)
In case of bank deposit, the order will on hold and will remain so, until confirmation of deposit has been made. If no such confirmation occurs within 2 working days, the order will be canceled. Customers can speed up the process by sending an email with the bank statement details..