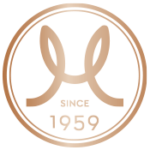 Quality & Tradition in Absolute Balance

Dimitrios and Themelina Matsouka opened the first MATSOUKA store in 1959, located on 38, Panepistimiou street in Athens. It occupied just 15 square meters of space and was right next to the historical "Chatzichristos Theater".
The company today is led by their daughter, Christina, alongside her husband Theodoros Davilas, while the third generation follows, her daughters Konstantina and Themelina.
For 61 years the name MATSOUKA is synonymous with taste, quality and tradition in perfect balance, in the field of nuts, dried fruits, chocolate, confectionery and Greek traditional products, with its primary concern being absolute respect for the customer.
From its foundation until today, "MATSOUKA", is a pioneer in the field of processing and marketing nuts and other related items. Although the company remains a purely family business, from the small store of 15 sqm, it now has 9 retail & wholesale stores in Syntagma, Kolonaki, Kifissia, Glyfada and Mykonos.
It also has two workshops for processing nuts and producing traditional confectionery, in Athens and Mykonos, such as Turkish delights, macaroons, rosettes, melomakarona, kourabiedes, cereal bars, almond fudge, bowl with pistachios, etc.

The best varieties of coffee are baked and roasted every day, thus offering top quality of Greek, espresso and filter coffee to our fine customers.
Responding to the requirements of the modern way of life and diet, "MATSOUKA" opened another specialized store in Syntagma, Athens, with tea, herbs, spices of Greek and international origin.
Our new store, located at Nikis 4 in Syntagma, operates in a space of 390 sqm, from where you can get all the products of "MATSOUKA", such as freshly baked nuts, snacks, delicious dried fruits, delicious Greek handmade chocolates, the unique French chocolate Valrhona, seasonal chocolates, traditional Greek products, dragees, sugar-free products, drinks, wines, custom-made gifts, business gifts and much more !!!
Enjoy coffee, tea, herbal drinks, hot or cold chocolate and accompany them with freshly baked dry, sugar-free crackers, top quality chocolates and many other sweets.
Our stores are open daily, on Sundays and on Holidays, from 08.00 to 23.00.